Mercury Electra™ 6G 1TB SSD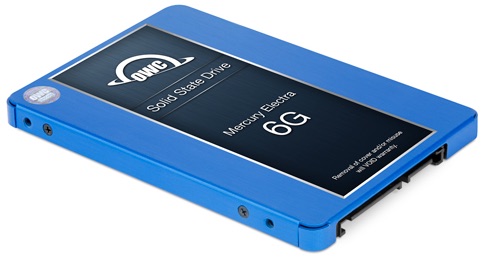 960GB




Mercury Electra™ 6G SSD


2.5" Serial-ATA 7mm Solid State Drive
For High Speed Personal Computing, Home Office, Gaming, and Personal Photography.
For mission critical applications that require the utmost in speed and reliability, Mercury 6G SSD's deliver performance you can count on.
The Mercury SSD line features a suite of industry leading controller technologies for performance and reliability:
Global wear leveling algorithms automatically distribute data evenly and manage program/erase count, maximizing SSD lifespan.
StaticDataRefresh technology manages free space, gradually refreshing data across the SSD over time, limiting data corruption
Hardware BCH ECC corrects errors up to 66-bit/1KB for superior data retention and drive life.
Best-in-class power consumption: Average 60mW
Advanced security protocols support 128/256-bit-AES and TCG Opal full-disk encryption
This internal 2.5" SATA SSD delivers outstanding transfer speeds, endurance, and reliability. With sustained reads up to 535MB/s and writes up to 443MB/s, the OWC 1TB Mercury Electra 6G SSD line delivers unbeatable performance that's designed and built in the U.S. from domestic and imported parts and backed by a 3 Year OWC SSD Limited Warranty.
High Performance Internal Storage
Replace your conventional hard drive with a reliable solid state drive. Unlike traditional hard disk drives, OWC SSDs have no moving parts, resulting in a quiet, cool, highly rugged storage solution that also offers near instantaneous system response.
Includes 7 mm to 9.5 mm Adapter / Spacer
Attach this adapter to the top of any 7mm, 2.5-inch drive for installations that require a 9.5mm drive height for proper use, whether you need a 9.5mm drive height for a dock, camera, server, device, PC, or external drive. This adapter is not needed for 2.5-inch drive installations that use the standard side or bottom mounting positions to secure the drive in place, and is not needed for any installation of a 7mm drive in Apple Macintosh computers.
1.0TB Mercury Electra 6G SSD Specifications:
Specifications
Controller
Silicon Motion SM2246EN Series with 7% Over Provisioning firmware set
NAND
Tier 1 Asynchronous MLC NAND Flash
Form Factor
Standard 7mm 2.5"
Interface
SATA 6Gb/s, 3Gb/s & 1.5Gb/s supported, SATA 3.0 Compliant
Capacity1
960GB useable capacity
Total Flash Memory Components – 1024GB
64GB allocated to real-time data redundancy & error correction
Formatted Capacity2
930GiB
RAID Support
Qualified for single drive and multiple drive production workstation RAID 0/1/10/0+1 and SPAN usage.
SMART Attributes
Standard4
Native Command Queuing
up to 32 commands
Manufacturer Model Number
OWCSSD7E6G960
RoHS Compliant
Yes
Format
Physical
Height (max)
7mm (0.276″)
OWC 7mm – 9.5mm Adapter
Width (max)
70.06mm (2.758″)
Length (max)
100.12mm (3.941″)
Weight
77 grams +/- 2 grams
0.170 lbs +/- 2.71 oz
Reliability3
Data Reliability
Built-in BCH ECC: Up to 66 bits correctable per 1024 bytes
Security
Chip Based Data Encryption: 256-bit AES-compliant
TRIM Support
Yes
Nonrecoverable Read Errors
Less than 1 sector per 1016bits read
Performance
Sustained 
Reads 6Gb/s (up to)
500MB/s
Sustained 
Writes 6Gb/s (up to)
450MB/s
Power
Active
Less than 2000mW (2.0W) expected maximum draw
Idle 
Less than 700mW (0.7W)
Environmental (Operating)
Temperature (°F)
32°F to 158°F
Temperature (°C)
0°C to 70°C
Environmental (Non-Operating)
Temperature (°F)
-67°F to 302°F
Temperature (°C)
-55°C to 150°C
Special note for specific 2009 iMacs, 2008-2010 MacBooks, 2008-2009 MacBook Pros & 2009 Mac mini.
We highly recommend the use of a SATA 2.0 (3Gb/s) SSD such as the OWC Mercury Electra 3G for the following Macs:
iMacs w/ Model ID:
How to find the model ID
    iMac9,1
    iMac10,1
    iMac11,1
MacBooks w/ Model ID:
How to find the model ID
    MacBook5,1
    MacBook5,2
    MacBook6,1
    MacBook7,1
MacBook Pros w/ Model ID:
How to find the model ID
    MacBookPro5,1
    MacBookPro5,2
    MacBookPro5,3
    MacBookPro5,4
    MacBookPro5,5
Mac minis w/ Model ID:
How to find the model ID
    Mac mini3,1
While a 6G SSD does function, it will only do so at SATA Revision 1.0 (1.5Gb/s, 150MB/s) speeds rather that the SATA Revision 2.0 (3.0Gb/s 300MB/s) speed the computer can deliver. Phone us for more information.