General Servicing Kit for all Apple iMacs 2007 & Later
Kit with installation tools to service all Apple iMac models released since 2007. Includes adhesive strips to properly re-attach your 2012 or later 21.5-inch or 27-inch iMac's screen.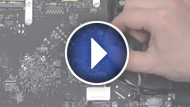 Note: This video refers to the 21.5" iMac model only. Although the 27" opens in a very similar way, this is only for reference and to help in understanding the difficultly of the disassembly required for accessing the hard drive.
Professional installation is highly recommended for 2012 and later models.
Note: For 2012 and later models, before attempting to perform this installation, please watch the 
OWC Install Video
in its entirety to determine your ability to perform this complex upgrade. OWC assumes no responsibility for damage that may occur during the install. Technical support for this DIY product consists only of the OWC Install Video.
Includes
2 suction cups for the outer glass removal
NewerTech 14-Piece Toolkit
NewerTech Microfiber Pro Cleaning Cloth
OWC Pick (for screen separation)
Thermal safe adhesive mounting set (for screen re-attachment on 2012 or later iMac models)
NOTE: This kit contains consumable and/or one time use components and therefore is not covered by any warranty.
Compatibility:
All iMacs 2007 - 2015