OWC Thunderbolt 2 Dock (including thunderbolt cable)

Thunderbolt 2  | USB 3.0 | FireWire 800 | HDMI | Gigabit Ethernet | Audio In & Out
Unite Your Peripherals. Plug in to Your Possibilities.
12 Ports of incredible connectivity
Dual Thunderbolt 2 ports for daisy-chain support
Ultra-HD 4K and multiple display support
5 fully-powered USB 3.0 ports including two high-power ports
FireWire 800 for connecting external storage and legacy devices
OWC's Thunderbolt 2 Dock puts all other docks to shame.Derek Kessler, iMore.com & Managing Editor of Mobile Nations


(5) Fully-Powered
USB 3.0 ports
Five ports for all of your USB accessories, including two high-power ports for fast device charging

(1) FireWire 800 port
Connect and daisy-chain popular external storage solutions and audio interfaces.

(2) Thunderbolt 2 ports
Connect up to five devices plus a display. Provides up to 20 Gb/s of bandwidth.

(1) HDMI and 4K
Support for 4K resolution and standard HDMI displays, televisions, or projectors.

(1) Gigabit Ethernet
A full-speed Gigabit Ethernet port adds wired support for newer Mac notebooks.

(1) Mic / Line In
Connect a microphone or any other line-in audio source.

(1) Audio / Line Out
Plug in your favorite headphones, speakers, monitors, or other gear.
Finally, a Thunderbolt Dock Done Right
12 Ports of phenomenal flexibility, all united to your Mac with just one lightning-fast Thunderbolt 2 cable. OWC Thunderbolt 2 Dock is the new foundation for your perfect workspace. Awesome performance meets incredible connectivity, the OWC Thunderbolt 2 Dock offers the ultimate in convenience and flexibility to streamline any workflow. With just one Thunderbolt cable, connect up to five USB 3.0 devices, Gigabit Ethernet, a FireWire device, HDMI, audio in, and audio out.
The Amazing Performance of Thunderbolt 2
Capable of an astounding 20 Gbps of throughput, the OWC Thunderbolt 2 Dock utilizes this phenomenal bandwidth to eliminate data bottlenecks, and effortlessly supports direct connection of up to ten devices, as well as daisy-chaining five additional Thunderbolt devices.
Connect More Displays
Configure the ultimate display setup to meet the needs of your workflow. Add a dazzling ultra HD 4K display, two high definition displays, or one 4K display and one high definition display. Even connect a VGA, DVI, or DisplayPort monitor utilizing the Thunderbolt 2 Dock's built-in HDMI and Thunderbolt ports.*
More Power to Work
The Thunderbolt 2 Dock features 5 fully-powered USB 3.0 ports for powering hard drives, SSDs, or optical drives, including 2 side-mounted, high-powered ports providing up to 1.5 Amps of power - perfect for charging iPhone, iPad, tablets, smartphones, and other USB-charged devices.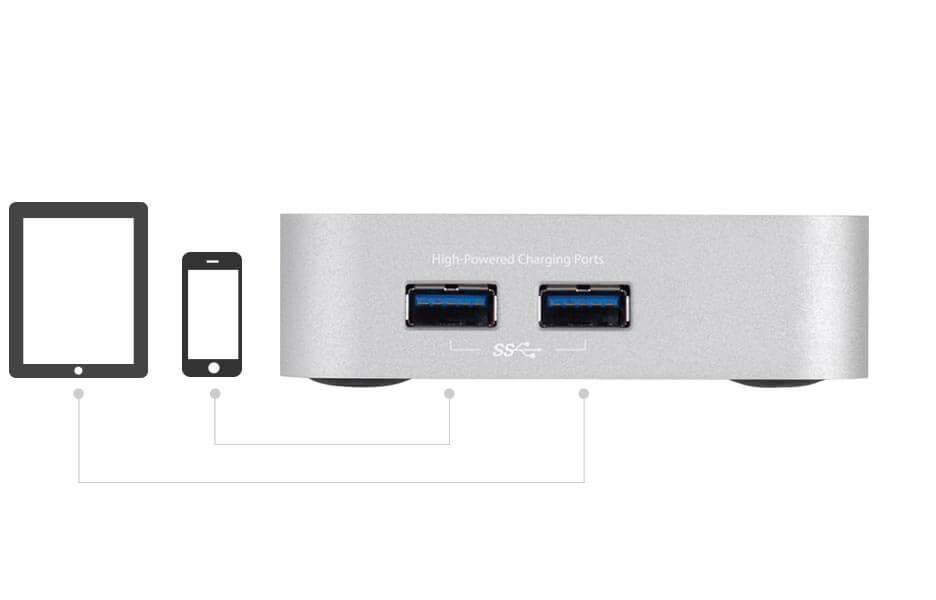 Everything You Need in a Dock. And More.
The OWC Thunderbolt 2 Dock is the unmatched expansion platform for your Thunderbolt-equipped Mac, with exceptional connectivity, and dependable performance. Whether adding USB 3.0 to an older Mac, Gigabit Ethernet to a newer MacBook Pro, or ensuring backwards compatibility with your existing FireWire 800 peripherals, the Thunderbolt 2 Dock keeps you connected.*Dual monitor support requires the use of at least one Thunderbolt display. If you connect a display to the HDMI port, then the only display that will work through the Thunderbolt port is a Thunderbolt display. If you are not using the HDMI port, then you can use a Mini Display Port cable or adapter to connect a display to the Thunderbolt port.